Assess, build capabilities and organize to step change performance, attract & retain great talent, and grow your company.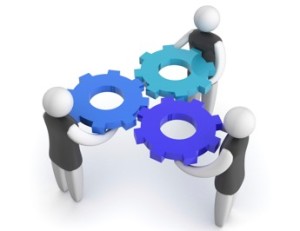 The discipline of Organizational Development addresses a wide range of needs:
Are employees, and the teams on which they serve, actively engaged and invested in organization success?   Even (especially) during times of change?
Are the line managers in your organization consistently demonstrating the capacity for cooperative, empowered leadership?
Is your company in the throes of structural changes, navigating significant transition, which might include integration of cultures and new ways of being?
Is the relationship between layers in your organization open and interactive, crucial conversations taking place when leading indicators call for it rather than when lagging indicators flare up (or take a dive)?
Is your organization enjoying talent attraction and retention at the levels you desire?
My name is Colette Pellissier, and I believe that culture is the ultimate expression of any organization.  It encompasses far more than the words that are used to describe what matters most—it captures the hearts and minds, the actions and the spirit of the living entity that is the organization itself.  I consider it a profound privilege to assist companies in upgrading their culture to meet the changing demands of both the workforce and the market place.
Organization effectiveness through Organizational Development is the integrated, whole-system discipline that evaluates and co-creates interventions designed to guide the organization in the direction of its goals.  Organizational Development looks broadly at work systems and people systems, mindsets, leadership skills, coaching & performance management, communication processes, expectation clarity and results measurement, role definitions and related capabilities, and treatment of diversity and inclusion to name a few.
Working with me
My work in organization effectiveness and Organizational Development starts with collecting data through focus groups, interviews and surveys to identify the potential leverage points for change.  Sometimes the assignment will be to work with a single team; sometimes it will be with department or an entire organization.  Regardless, my role is to reflect back the deep insights that reside in the feedback collected, and enable informed strategies & actions for leaders to unleash the brilliant potential of the company.
Most often I continue on to assist with program implementation throughout the workplace, using a variety of organization development tools to fortify local leadership efforts and ensure continuity in the face of competing priorities and operational demands.  My values are reflected in the way I approach this work, in which I leverage positive psychology & emotional intelligence coaching, appreciative inquiry strategies and strength-based acumen.
See below for a partial list of services that are available to support your organization effectiveness goals.

Why choose Coach Colette?
I specialize in a whole-system, integrated approach to leadership & organizational development.  This type of work is exciting and transformational. Heavy lifting sometimes, and well worth it! I am committed to working with companies that are willing to bare all to become the very best versions of themselves. It takes tremendous clarity, courage & constancy of purpose. And it is the stuff that companies-that-last are made of.
I am experienced in the OD & cultural transformation space.  From individual leader effectiveness to new team integration to complete team structure redesign & implementation, I have been unlocking potential in the Fortune 100 for more than 20 years. I have a unique skill set that weaves together Spiritual Psychology, Positive Psychology, Emotional Quotient (EQ) / Emotional Intelligence (EI), Change Management, Diversity & Inclusion, various Leadership & Team Performance models, various Coaching models, Situational Leadership, and more.
I have decades of intra-departmental, cross-functional and cross-cultural business acumen.  In my experience, gone are the days of single-department impact on contemporary business issues. The solution almost unanimously lies in the organization's ability to rally across individuals, teams, functions and geographies. The professional you work with will need to know how to assess, strategize and action complex landscapes which give way to integrated solutions for complex challenges.
I am a highly trained, credentialed & experienced professional coach.  I have some of the very best training available in the coaching industry and am credentialed by the International Coach Federation (ICF). Without exception, organization culture change involves the need to impart new or updated leadership skills. Changes to behaviors and mindsets, which are known to be best enabled through coaching continuity programs. Culture change is adaptive. Training classes won't make it happen.
People will, and they need support to stay on track with the new way when yesterday's muscle memory and today's operational pressures pull them back to the old way.
Partial list of services available
Executive Leadership Development, Executive Team Building & Executive Team Effectiveness Facilitation –  All lasting change starts at the top, with full buy-in, cooperation and active participation by the Executive Team—talking the talk AND walking the walk before the rest of the organization is asked to jump on board.  I offer services that enable your Executive Team to reach new levels of effectiveness & efficiency.
Conversations with Colette: Give High Potentials Every Reason to Stay – Offer extra encouragement for, and build loyalty with, your high performers through a coaching partnership.  The nature of the conversation is guided by the employee and can extend beyond work performance as a demonstration of your organization's unconditional support.
Organization Effectiveness Assessment & Transformation Programs – Activate the potential in your organization.  Clarify your goals, assess baseline for an objective picture of your starting point, define your transformation roadmap and begin implementation with defined reflection points to assess program impact.
Building High Performance Culture & Creating Collaboration Across the Organization – Individual teams can pursue high performance development initiatives, but their impact inside the organization will be thwarted unless the broader business is committed at all levels to shift the culture to high performance.  Clarify high performance intent, align strategically, and kick the program off at the executive level.
Implement S&OP+ / Upgrade S&OP+ Benchstrength – A your organization evolves and grows, so must your acumen in navigating complex investments of finite resources.  Identify and implement a fit for purpose, integrated business process to support your journey to business excellence; or deepen your standards of excellence by evolving process maturity with expert guidance.
Creating a Coaching Culture – Most line managers have been promoted because of their technical acumen, yet leading teams requires a whole new set of people skills.  Create a culture of accountability and ownership through a coaching style of leadership.  Support employee empowerment, build leadership bench strength.
Workshop: Appreciating Differences in Communication Style (2-4hr) – Improve organization communication and interpersonal effectiveness by providing context about communication styles. Participants explore their own communication biases and create a personal plan to grow in inclusion & cooperation in an interactive, energizing workshop.
Multi-Tier Engagement: Design & Facilitation – Trust is the currency of leadership, and engagement is the evidence that trust is in play.  When the relationship between levels in your organization needs to be fortified, recruit support for meeting design and facilitation so all levels can participate in co-creating new ways of being and doing.
New Leader Assimilation Program / First Time Manager Onboarding Program – Set new leaders up for success by offering them coaching support, including a facilitated session(s) with their new teams.  Positive first impressions go a long way to build trust and accelerate team cohesion during leadership transitions.
Succession Planning  – Managing the risks and opportunities associated with your talent pipeline is a key responsibility within the organization.  Do you know which roles are the mission critical ones?  Do you have a robust pipeline of talent being developed to fill those roles, ready to step in at a moment's notice?
Mentoring Circles Program – Create community and a forum that encourages growth by offering a program where participants learn from each other in a structured group setting.  Customize the program based on specific business needs or topics & drive engagement by creating a space where learning is organic, fun and linked to your strategic direction.
Change Management – Change is inevitable in today's business environment, and it can be managed in a way that is known to minimize employee distress & operational disruption.  Change Management services range from clarifying strategy, to creating a transition plan, to implementing the plan internally.
Please click this link to see additional information about programs and services to Be an Extraordinary Leader and Build Exceptional Teams that might be relevant in the context of your cultural transformation goals.
Don't see what you are looking for?  Contact me to discuss your specific needs.