You are a highly capable leader.
And you have a
lot

of responsibility.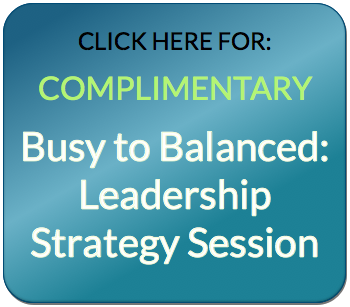 What you are up against is not trivial: the contexts you are operating in are complex and unique, as are your personal circumstances. The tension between the push of work and the pull of family & other outside interests is one dimension; layer on the pressure of doing more with less, then add competing priorities across multiple stakeholders, it can become… disorienting, at best.
Most often, the space for new possibility is created through disruption to the status quo, which means you may also be experiencing discomfort, frustration and possibly some lack of clarity about why the approaches that worked for you in the past are not cutting it any longer.
The nature of these particular challenges makes them difficult to resolve on your own: if you've tried, you might find short term success, then surrender to muscle memory of old habits before new ways of being can settle in more permanently.  Rest assured, this is perfectly normal.
In fact, you are right on track.  Mine are words of encouragement: these struggles are actually an indicator that you are on to something really important.  I see them as a very good sign, even in the dis-order that often accompanies them.
Executives, leaders and aspiring leaders have an important role to play in the world of business.  People on your teams are looking to you for inspiration and empowered guidance every day.  You want their lives to be better because of their relationship with you.  As a resourceful leader, you want to leverage everything at your disposal to model inspired leadership for your teams and your organization.
I can help you transcend the busy-ness to achieve
the results you
really

long for.

First of all, let me say that I love what you are up to.  Your work is one of the ways you express yourself in the world.  It matters.  Not just the what of it, either; the how matters, too.  The world needs you and your unique form of leadership.  Trust that; I do.

I absolutely love being a coach.  I have deep passion for helping people just like you grow your leadership energy & impact so that, starting today, you can find balance and enjoy your work while you make the difference you came here to make.  You, being the most effective, confident & vibrant version of yourself, making a potent contribution in the world.  Seriously, that is why I get up in the morning.  Helping you to know & honor your fullest leadership expression is my purpose on the planet.

If you decide to read further, and I hope you do, you'll see that I am highly trained & certified professional coach, and offer more than 20 years of experience in Fortune 100 leadership development, executive coaching and organization culture transformation.  Check out this page to learn more about qualifications I bring to the coaching partnership.  As you learn a bit more about me & my story, you might just find something that speaks directly to you.

I specialize in a strengths-based, whole-person approach with a gift for cultivating collaboration, cooperation and engaged environments—within individuals, between individuals and across organizations.  My style is informed by broad business acumen, transformational life experiences and credentials in Spiritual Psychology, Consciousness Health & Healing, Positive Psychology and NLP to name a few.

I believe you already have the answers inside of you.  If you didn't, you would not even recognize the question that you are leaning into.

My job is to help you connect to your own source of wisdom, and learn to access it not just when things are going well, but in times of challenge, too.  I consider it a privilege to help you get really clear about your leadership goals, take purposeful action in their direction and in the process, learn to master new skills and practices that will transform your relationship with your self, your work and every area of your life.

This is the stuff that leadership resilience is made of.
It is possible to choose balance 
and

be the kind of leader who makes a big difference in your organization.
In fact, it's your highest responsibility.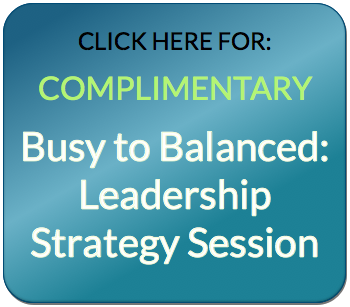 Let's face it: you're already working smarter and managing your time to the best of your ability, often sacrificing the things you know you need & want to do in favor of the things you feel you have to do. The changes that you are being asked to make now transcend traditional training and call you to a deeper solution that you might not even be aware of. Yet. Time & time again I have seen this, and know it is true for you, too: the solution does reside inside of you already.
And most likely, you will need support to find your way to it.
I encourage you: if you are being called to advance your leadership acumen, take action.  Any action.  Symbolically, it acknowledges the part of yourself that wants you to learn & grow; it also demonstrates on a meta level that you are willing to trust and receive support for the things that matter to you.  Knowing when to receive support is a masterful leadership skill.
Research tells us that small actions are the best way to stay mobilized, and they do even more for helping us achieve our goals than big-bold action.
Take a next step.
If you are up for regular doses of inspiration, as well as tips and perspective on a wide range of leadership topics, you can sign up below to receive notification when I have posted a new resource for you in the Leadership Academy.  The series will help you stay current in the latest leadership insights, catalyze fresh thinking for yourself and/or your teams, and learn new things that you can apply in your leadership expression right away.
Illuminated Leadership Academy
Insight, inspiration & education for the Illuminated Leader. Sign up here to receive notification of new resource postings.
Read articles at my Leadership Academy.
I hate spam too, so your name and information will never be shared.
Your time is precious and my commitment is that the material I send out will be worth your time.  Each publication will provide real value to you, and this service is completely free of charge.  No commitment required on your part; you can unsubscribe at any time.
It would also be my pleasure to send you a complementary report with insights I have gained from helping countless people make important shifts just like the ones you are contemplating.  Click here to receive my free resource titled  Strategies for the Illuminated Leader: 4 Keys to Creating Change that Lasts.  It's my gift to you for spending a few minutes with me today.
Challenges carry a gift: they point us to areas where our lives are asking us to update our ways of being and doing.  If you are serious about working with a coach to address a change that has been trying to get your attention,  contact me for a complimentary Busy to Balanced: Leadership Strategy Session.  I'd love to provide you with valuable insights on how to grow your leadership presence and impact, and explore how I might help you find your next level of leadership excellence.