Change does not have to be hard.  But it does take courage and commitment.  I acknowledge you!  Taking action is a potent way to demonstrate that you are in alignment with an important change you are contemplating.  As a leader, it also confirms your intention to support the people who are working with you, as they make changes as part of their learning and development.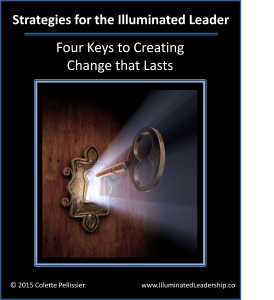 To receive a complimentary copy of my free resource called Strategies for the Illuminated Leader: 4 Keys to Creating Change that Lasts, please enter your contact information below.
I love to share education & inspiration with my tribe of amazing leaders, so as a bonus I'll also enroll you to receive notifications when a new free resource is posted in the Leadership Academy.
I hate spam too. Your contact information will never be sold, EVER.