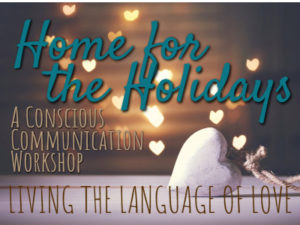 We're all here to make the world a better, brighter, kinder place.  This is especially present in our awareness during the holiday season.  And ironically, the hustle-bustle of the holidays can also test our resolve and find us in situations where we become habitually triggered.
"If you think you're enlightened, go spend a week with your family."
~ Ram Dass
In addition to clear intentions and conscious ways of being, there are practical ways to anchor Love on the planet, including the the way we communicate with each other.
Love has its own language, which oddly enough, is different than the way most of us learned to communicate.  The words we use carry an energetic signature, as does the delivery of those words and the quality of our presence as we speak them.
Join Colette for a Conscious Communication Workshop Series
Just in time for the holidays, during this 6 part series we'll explore the foundations of the language of Love, integrate practical & perfectly approachable skills, and get personalized support designed to:
Instantly deepen the connection to your Self and others
Transcend long-held misunderstandings on an energetic level so they can heal on the physical level
Bring compassion to every relationship (yep. every. relationship.)
Nourish authentic empowerment so you can show up as a consciousness catalyst and healing agent in any environment
Duration:     2 hours per class, 6 classes in the series
Location:   Indianapolis area, or contact me to book a class near you
Exchange: $177 per person
Won't you join me?  Send me a message to be contacted when we plan to offer the course again.
"Cultures [families] are created one relationship at a time, 
and relationships are created one conversation at a time."
– Judith Glaser